Saturday 6 March 12 am – 2 pm
Preparing an Autumn/Winter Garden with Robin Gale-Baker
Macleod Organic Community Garden
Free to members. $15 for non-members.
Just turn up. No booking required.
March is the best time to begin preparations for autumn planting. This workshop covers soil preparation for 6 groups of vegetables, watering, site selection, plant selection, how to plant for the best results and lots of tips for success.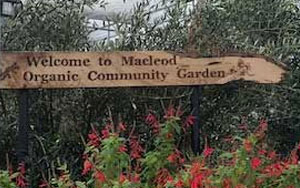 Saturday 13th March 12-pm – 1pm
Macleod Organic Community Garden
Just turn up 10 minutes beforehand. No booking required. 
This session introduces members to Sustainable Macleod's extensive list of activities and benefits including the Macleod Organic Community Garden, the Tool and Book Libraries and much more. Find out how things work!
You don't have to be a new member. Old members and non-members are very welcome.
Become a Member
Workshops are free to members (unless we have a paid presenter). Just one of the many benefits of joining Sustainable Macleod
Join now