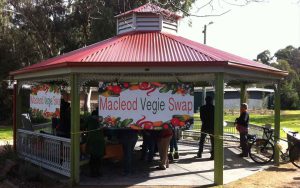 THIRD SATURDAY OF THE MONTH
Macleod Vegie Swap is back! People bring fruit, vegies, herbs, seeds, plants or preserves. All are welcome to join in or just come and say hello!
SATURDAY 11 JUNE 11.30am-1PM
A comprehensive workshop on the how and why of wicking beds, including detailed explanation and notes on how to put together these water-saving, high-cropping beds.
Featuring the latest Macleod news along with a variety of gardening and growing tips, recipes and information on sustainable living.
Please send us about 200 words on what worked and didn't work for you. Thanks Greta and Marie-Claire for your contributions! From Greta in Heidelberg Heights: This summer QFF infected our nectarines and to a lesser extent our Chinese quince. Nothing else was affected....
read more
Join Sustainable Macleod
Become a member and get access to the community garden, the tool library and our seed library. We welcome all members of the community and have regular events and workshops to enjoy.
Join us